U3A Dénia Homepage
WELCOME TO THE U3A DÉNIA WEBSITE
The purpose of the U3A is to encourage life long learning and enable people who are no longer in full-time employment to share their knowledge, skills, interests and experiences. The U3A is open to everyone in the community. No qualifications are necessary, nor any awarded.
Why not join U3A Dénia now. We have a range of over thirty specialist groups, ranging from Card playing groups, Backgammon, Mahjong groups, some gym based groups, Petanque, a Quiz group, Genealogy, a Discussion Group and two Walking and Cycling Groups for members to enjoy.
We also have a fortnightly Drop-In coffee morning at the Cafe Soles Restaurant. Come along and introduce yourself and join in the interesting conversation. An invite is sent to all members by Email a few days before the event - come along and introduce yourself and meet members of your committee. If you wish to pay for membership or travel, please bring your barcoded membership card to speed up the process.
Membership subscriptions are usually due before the end of March but because of the Covid pandemic we are being flexible about renewing subscriptions owing to the difficulties of travel between the UK and Spain
The main home page has a number of sections which can be reached by clicking on the links below. Look for the

and

and

icons for new and updated sections.
Phil
Webmaster
Changes to UK citizens due to Brexit
Corona Virus
This section keeps you up to date on what is happening in Spain on Corona Virus. It is ordered by latest event first. I've included a number of documents in Spanish as translating them in full is a time consuming process.
Latest Coronavirus Restrictions
The graphic below is an English translation by N332.com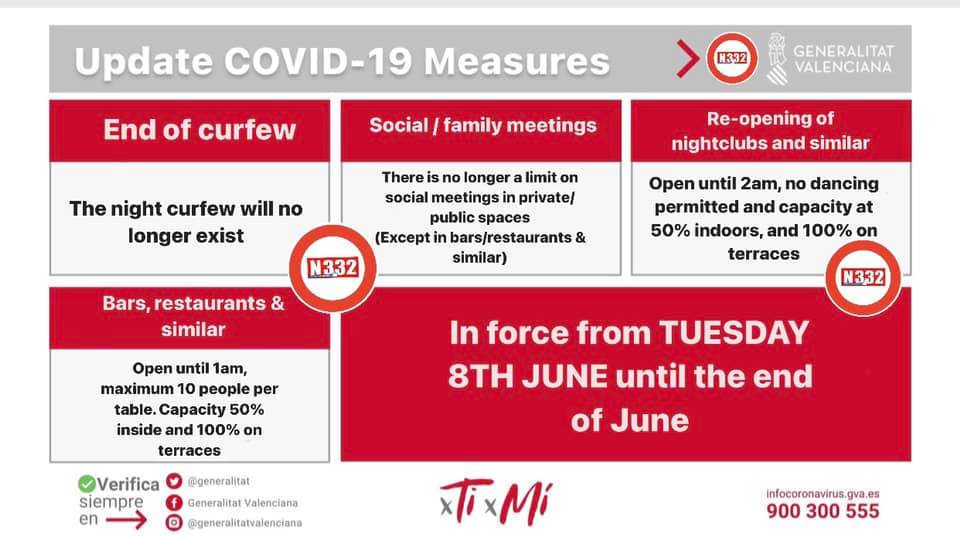 Vaccination program
Vaccination in Spain Executive Summary.
COVID-19_EstrategiaVacunacion.
COVID-19_Actualizacion1_EstrategiaVacunacion.
Some advice about travel to Spain from the UK
Latest Foreign Office Document on Corona VIrus and travel restrictions to Spain
Older stuff
Official Documents on transition to Phase 2
Here are some documents which define the rules that are associated with the transition to phase 2 of the Covid-18 de-escalation process. I have uploaded the Spanish versions for now and I am in the process of translating them using Google translate followed by careful inspection for obvious errors.

Access to healthcare after transition period
Diari Oficial de la Generalitat Valenciana Covid-19
Botletin Oficial del Estado COVID-19 Mobility of Persons
Botletin Oficial del Estado COVID-19 De-escalation Phase 2
Guide to Plan for Transition to Phase 2 in Spanish
Guide to Plan for Transition to Phase 2 in English [UPDATED]
Recent documents from the British Embassy in Madrid
The following three files are the attachments to the letter received from the British Embassy in Madrid on21 April
Access to regular medical treatment for residents in Spain_April 2020
Home delivery of prescription medicine in Spain April 2020
The Financial Effects of COVID
Some useful slides from the Spanish Ministry of Health
---
---
---
---
Email from British Embassy
Dear All,
I hope everyone is keeping safe and healthy in these difficult times we find ourselves in. Apologies for the rather mammoth update, but I wanted to make sure you had all the information that might be useful. If there are other things you would like more content on, please let me know and I will do my best to help.
As you know, all our latest information is
here
and
here
and we would be grateful if you could share and cross post links as appropriate. The Q&A document that is pinned to the top of our Facebook page is kept updated and is a useful place to refer any visitors that may be coming to you for information.
Specifically for tourists trying to return to the UK:
The Spanish authorities have published a list of hotels and short-stay accommodation that will remain open during the state of emergency. You can view the list at
. (No need to wade through the whole document – the list is at the end).
We are publishing an updated list of flights leaving for the UK each day on our social media channels. They are becoming increasingly limited, so we do urge people who want to return to take the first flight available and to be flexible about their destination airport.
To drive back through France, the French authorities require that you fill in a declaration to explain your reason for travel. You should also have evidence of your onward travel plan (i.e. ferry/rail ticket). Please check our travel advice page for France for the latest information. If you do not have access to the printer, you can write the declaration by hand.https://www.gov.uk/foreign-travel-advice/france and we have produced the attached document, which people should print (if they can) or show on their phone.
Driving
We know the rules around driving during the state of emergency have been causing some confusion. Here is our latest information on this:
1. You should not be making unnecessary journeys. If you need to go somewhere there should be one person only per vehicle, unless you are accompanied by someone with a disability, a minor, an elderly person or for another justifiable cause. Whilst we cannot specify what would be considered justifiable, some of you have asked us ab...out driving a partner to a hospital or other medical appointment. We cannot guarantee that this would be accepted, but should you choose to make this journey we recommend that the passenger sits in the back behind the front passenger seat and that you carry documentation showing the purpose of your journey.
2. The Interior Ministry and Policia Local have confirmed that cars and minivans carrying families/groups of passengers is permitted, as long as the purpose of the journey is to return to your country of residence. All passengers should carry their passports, proof of where they live and evidence of their onward journey (e.g. ferry booking). Please refer to our previous posts on the need for a declaration to drive through France and the letter from the British Embassy that you can use.
3. You should take public transport or taxi to the airport, rather than being driven by friends. If you are travelling as a family you may be required to take separate taxis. Some taxi companies will only take customers wearing face masks. Please check at the time of booking.
Healthcare
NB. Please be aware that this advice/procedure may change day-to-day as the health authorities put new triage systems in place.
For Visitors
If you are temporarily in Spain and you need to see the doctor, please be reassured that the UK EHIC is still valid for the rest of 2020 and will cover you for any necessary treatment, including prescriptions. You can get renewals by contacting the nearest healthcare centre to you. Due to Coronavirus COVID-19 outbreak, you must follow the advice of local authorities, comply with self-isolation, testing or quarantine requirements. Please see here for details on gov.uk and here for further information from the Spanish authorities. The latest UK health advice is
here
.
If you don't have a UK EHIC and think you are entitled to one, please call NHS BSA 00 44 191 218 1999 for a replacement. When you call NHS BSA, you will need the email address of the closest Spanish healthcare centre. Your replacement EHIC will be emailed there.
For Residents
If you are currently registered within the Spanish healthcare System, you will continue to have access to healthcare as you do now.
1. I have been issued with an S1 form but I have not been able to register it. How can I get medical care?
If you have been issued with an S1 form and registered for residency, but you have not been able to register it with the INSS (Spanish Social Security), then please email the Healthcare Team at healthcare.spain@fco.gov.uk They will help you process your application electronically
If you have been issued with an S1 form but you have not been able to register for residency, you can use your EHIC to access any necessary care, including prescriptions. If you don't have a UK EHIC, please call NHS BSA 00 44 191 218 1999 for a replacement. When you call NHS BSA, you will need the email address of the closest Spanish healthcare centre. Your replacement EHIC will be emailed there.
2. I am entitled to Spanish healthcare cover because I am a permanent resident. I haven't processed my paperwork yet.
Please email the Healthcare Team at healthcare.spain@fco.gov.uk They will help you process your application electronically.
3. I am entitled to Spanish healthcare cover because I am a dependent on someone who is registered with the social security system. I haven't processed my paperwork yet.
Please email the Healthcare Team at healthcare.spain@fco.gov.uk They will help you process your application electronically.
Residency
Questions from UKNs who live in Spain but who are currently in the UK
- All borders are currently closed to enter Spain, except for Spanish nationals, Spanish residents (ie those with the green residency certificate), frontier workers and those who can prove they need to enter for essential reasons. We cannot guarantee that anyone not in possession of the residency certificate will be allowed entry and would advise them to stay in the UK until the situation changes.
Questions from UKNs in Spain who are not yet resident, but intend to be
- Due to the emergency measures currently in place in Spain due to COVID-19, all residency appointments at immigration offices and national police stations have been cancelled. It is therefore not possible to register as resident at this time
- UK nationals who live in Spain but who do not currently possess a residency document will be able to obtain this document once the restrictions are lifted and appointments resume. Please see
link
for further information
- If the person is worried about securing their residency rights due to Brexit: Please be assured that as long as a UKN is legally living in Spain by the end of this year, they will fall under the Withdrawal Agreement and enjoy the rights that this protects for as long as they remain resident in Spain. Anyone who doesn't currently have a residency document should take steps to obtain this once the emergency restrictions are lifted and appointments resume (signpost to same place as above and to
here
- If a person is worried that they have overstayed their time in Spain – reassure them that the 90 in 180 day rule does not take effect until 1 January 2021. UK nationals still enjoy freedom of movement rights for the remainder of this year. They should check that their extended stay does not have implications for their travel or health insurance cover, but the most important thing is that they stay safe.
And finally, our consulates remain open, but are only able to see people by appointment. As you can imagine, they are hugely busy right now and so any support that you can give in helping make sure that both residents and visitors have the latest information is hugely appreciated.
Letter for visitors traveling home
All the very best,
Debbi
What you can and can't do in the state of emergency
The following link shows a list of does and don't during the state of emergency (Estado de Alarma)
State of Emergency
Message from the British Ambassador
The British ambassador has shared
a video
with British nationals who are resident or tourists in Spain.
Meetings
As you will all know we have cancelled the March Members' Meeting because of issues related to the Corona VIrus and COVID-19 in Spain. We have received the following from the British Consulate. Although they were still prepared to speak to our meeting we decided that since many of our members are in the most at risk age group it was sensible to cancel any indoor meetings of a large number of people. We ate also considering whether to reschedule any travel group trips involving coach transport as these also present a high risk of spreading the virus.
Message from the British Consulate
Dear all
Further to yesterday's message here is some more information as to why we have postponed our events:
Given the fast-moving situation with regard to Coronavirus in Spain, we have decided to err on the side of caution and postpone all our physical outreach events until further notice.
This follows the advice from Spanish health authorities to avoid unnecessary journeys and limit meetings in the region of Madrid and Avala in the Basque Country.
We will aim to reschedule these events as soon as we can, once the situation becomes clearer.
We will set up a Facebook Live event to respond to questions from UK Nationals before the end of March and we apologise for any inconvenience this may have caused.
Our travel advice for Spain can be found here, and we continue to update it regularly. https://www.gov.uk/foreign-travel-advice/spain
I will keep you posted as soon as we are in a position to arrange the outreach and other events again.
Warmest regards to you all
Michaela
Michaela Robinson | Consular assistant | Alicante
Emergency telephone number for suspected coronavirus in Comunidad Valenciana:
900 300 555
The PROTOCOL is to call this number, if you have symptoms and think that you may be infected.
DO NOT go to the Emergency Department or local hospital centers, where you would transmit the virus to other people with other pathologies. When this number is called, they will conduct a survey and if it is positive, they will tell you how to act and send someone to take tests. Share this with your contacts.
Prevention is better than cure
Common sense for the good of all of us...
Virus Detection:
The simplest way to distinguish Coronavirus from a Common Cold is that the COVID-19 infection does not cause a cold nose or cough with cold, but it does create a dry and rough cough.
The virus is typically first installed in the throat causing inflammation and a feeling of dryness. This symptom can last between 3 and 4 days.
The virus typically then travels through the moisture present in the airways, goes down to the trachea and installs in the lungs, causing pneumonia that lasts about 5 or 6 days.
Pneumonia manifests with a high fever and difficulty breathing. The Common Cold is not accompanied, but there may be a choking sensation. In this case, the doctor should be called immediately.
Experts suggest doing this simple verification every morning: Breathe in deeply and hold your breath for 10 seconds. If this can be done without coughing, without difficulty, this shows that there is no fibrosis in the lungs, indicating the absence of infection. It is strongly recommended to do this control every morning.
Prevention:
The virus hates heat and dies if it is exposed to temperatures greater than 80°F (27°C). Therefore hot drinks such as infusions, broths or simply hot water should be consumed abundantly during the day. These hot liquids kill the virus and are easy to ingest.
Avoid drinking ice water or drinks with ice cubes.
Ensure that your mouth and throat are always wet, never DRY. You should drink a sip of water at least every 15 minutes. WHY?
Even when the virus enters water or other liquids through the mouth, it will get flushed through the oesophagus directly into the stomach where gastric acids destroy the virus. If there is not enough water, the virus can pass into the trachea and from there to the lungs, where it is very dangerous.
For those who can sunbathe. The Sun's UV rays kill the virus and vitamin D is good for you.
The Coronavirus has a large size (diameter of 400-500 nanometers) so any face mask can stop it, no special face masks are needed in daily life.
If an infected person sneezes near us, stay 10 feet (3.3 meters) away to allow the virus to fall to the ground and prevent it from falling on you.
When the virus is on hard surfaces, it survives about 12 hours, therefore when hard surfaces such as doors, appliances, railings, etc. are touched.
Hands should be washed thoroughly and/or sanitized with an effective sanitizer
The virus can live nested in clothes and tissues between 6 and 12 hours. Common detergents can kill it. Things that cannot be washed should be exposed to the Sun and the virus will die.
The transmission of the virus usually occurs by direct infection, touching fabrics, tissues or materials on which the virus is present.
Washing /sanitizing your hands is essential.
The virus survives on our hands for only about 10 minutes. In that time many things can happen, rubbing the eyes, touching the nose or lips.
This allows the virus to enter your throat. Therefore, for your good and the good of all, wash/sanitize your hands very often
You can gargle with disinfectant solutions (i.e. Listerine or Hydrogen Peroxide) that eliminate or minimize the amount of virus that can enter the throat.
Doing so removes the virus before it goes down to the trachea and then to the lungs.
Sanitize things touched often: hands, cellphone, keyboard, mouse, car steering wheel, door handles, etc
Links to Past Newsletters

The following is a list of links to our newsletters sent by our mass Email system. If you missed the Email or have deleted it by mistake you can just click on the link and it will take you to the Email contents.
List of recent Emails
New speed restrictions
Don't forget the changes in some speed limits in Spain from next Tuesday! 🚗 🏍 These new limits apply regardless of any speed limit signs already present.
SPEED LIMITS: On May 11th, 2021 speed limits in Spain will change, as 6 months have passed since this new law's publication in the #BOE by Royal Decree 970/2020, of November 10th that modifies the RGC.
NEW GENERAL SPEED LIMITS on URBAN ROADS, the following:
2️⃣0️⃣ km / h on roads that have a single carriageway and path/sidewalk.
3️⃣0️⃣ km / h on single lane roads per direction of travel.
5️⃣0️⃣ km / h on roads with two or more lanes per traffic direction.
These apply within towns / villages / cities, urban areas.
FINES for EXCEEDING the SPEED set by the road, depending on how much the imposed limit is exceeded, can be either SERIOUS or VERY SERIOUS, thus differentiating the amount of the penalty.
The margin for mistakes will always be applied to the corresponding speeds of course. You will not be fined for going exactly 1km over the speed limit! Don't forget they allow space for mistakes.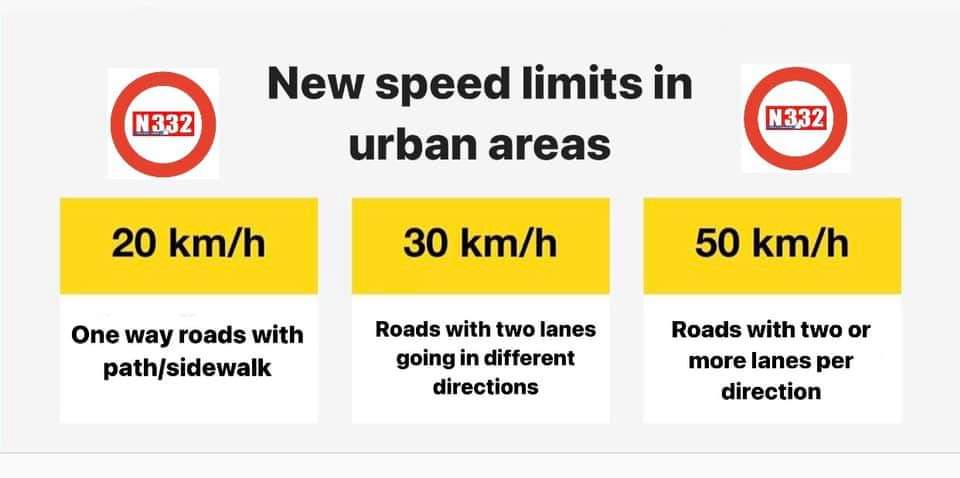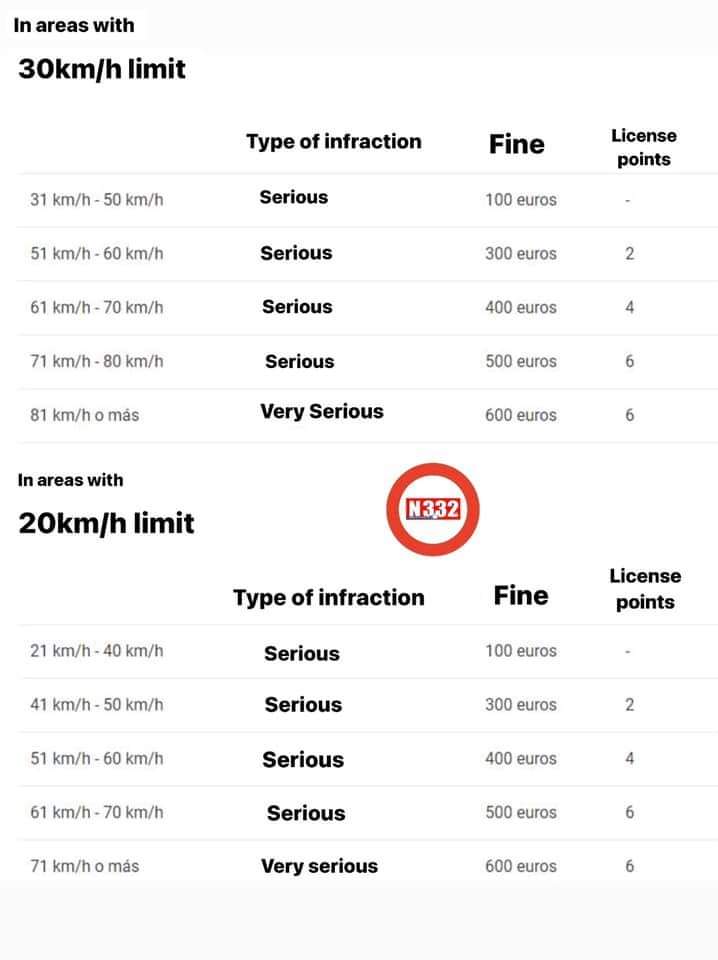 Here is some advance warning of another change to traffic regulations replacing red triangles with flashing beacons.


Help with website and Email problems
We continue to improve and update our website and Email system to make it more appealing and informative and to comply with regulations that are in force.
Please click
here
to update yourself with more details.

Problem with password change
There is a problem with the change password program which seems to have been caused by a change in the host system. I am looking for a solution at present and will fix as soon as I have one.

Several members appear to have accidentally unsubscribed from the Email system. I cannot reinstate youbecause of the rules of the General Data Protection Regulations (GDPR). If you follow this
link
it will guide you through the process to resubscribe.
The GDPR allows Emails users to limit the Email they receive but unfortunately it is quite easy to unsubscribe accidentally. Please look at the
link
for a description of how it can happen.
WEBSITE ISSUES
Some time ago our website host provider made a major update to the database that supports our website. Most of the resulting issues have been fixed but occasionally one will pop up that has not yet been found.
We are effectively relying on you the users to test some of the less used features.
If something unexpected occurs please let the
Webmaster
know via Email supplying as much information as you can on the error and how it occurred. A screenshot would be welcome.
LOGGING IN
If you have trouble logging in, try getting a new password by clicking the
forgotten password
link on the bottom left of the home page.
If you click this link and follow the on screen instructions you will be sent a new password to your registered Email address. The system sends out mail a few minutes after the hour so you may have to wait for the password to arrive.
Unfortunately I cannot change your password and it is encrypted so I cannot tell you what it is if you have forgotten it.
In the interests of security you will automatically be connected to the secure home page
https://www.u3adenia.com/
so that your passwords are encrypted when they are sent. If this causes any problems, please email me at
Webmaster
BROWSER ISSUES
If you are using the Apple Safari browser you may have problems with the U3A Dénia website and I would suggest Chrome or Firefox browsers which don't show this problem. I am trying to resolve the Safari problem with our service provider.
EMAIL ISSUES
External Email provider, MailChimp
Owing to problems with the website Email server, mainly related to spam or unwanted Email, when sending Emails to all members we are now using an external provider, MailChimp, for these mass Emails. The new Emails are more colourful and informative.
The service will only send one email per registered Email address so if two members share the same Email address they will only get one Email. Only members who are up to date with subscriptions are included in the list. The MailChimp database is updated when I complete the membership application for new members.This server is only used for mass Emails to all members. We still use the internal mail server for Emails targeted on a smaller number of members, for example information to those members going on a travel group trip, as this is integrated with our website internal database.
GDPR (General Data Protection Regulations)
You will see the acronym GDPR often with respect to Emails. This is a protocol introduced by the EU to, among other things, try to prevent you from receiving unwanted Emails. We comply with the requirements of the GDPR, both with our internal Email server and via our external mass Email provider. This mainly affects you with respect to unsubscribing from Emails.
External Email provider, MailChimp
If you choose to unsubscribe on the MailChimp Emails there is a link at the bottom of the Email with which you may unsubscribe. You will thenceforth receive no more mass Emails from us.
If you accidentally unsubscribe from MailChimp please Email me and I will send you a link to resubscribe or you can use
this link
. I can no longer resubscribe for you , this is required by MailChimp.Please click
here
for a step-by-step procedure to resubscribe.
Internal Email server
Unsubscribing from MailChimp will only stop mass Emails to all members from reaching you, more targeted Emails from the internal server will not be affected. If you wish to unsubscribe from these Emails, click
unsubscribe
and your Email address will be removed. If you wish to resubscribe, please send me and Email from the Email address on which you want to receive them explicitly telling me that you want to receive targetted Emails from our internal server and I will add that Email address to our database and send a reply confirming what I have done.
Other Email problems
If you have not unsubscribed but are not receiving Emails from us it may be your spam filter intercepting the mail. Please add
info@u3adenia.com
to your contacts which will often prevent the spam filter operating on our Email address. Unfortunately
info
in an Email address does trigger some spam filters. In any case, please check your spam/junk mail folder from time to time in case anything gets there by mistake.
Other website issues
If you have any other issues with the website please email me at
Webmaster
RESUBSCRIBING
When you unsubscribed you may have seen the following screen.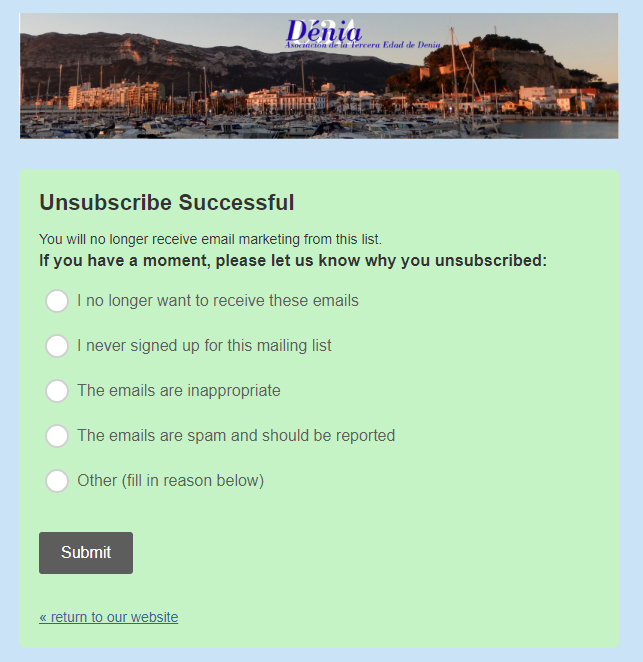 If not, don't worry, it does not always appear.
You should have clicked
this link
to resubscribe. What follows is a step-by-step description of what should happen. If anything goes wrong or doesn't follow this sequence, please Email me at
Webmaster
.
The first screen you will see is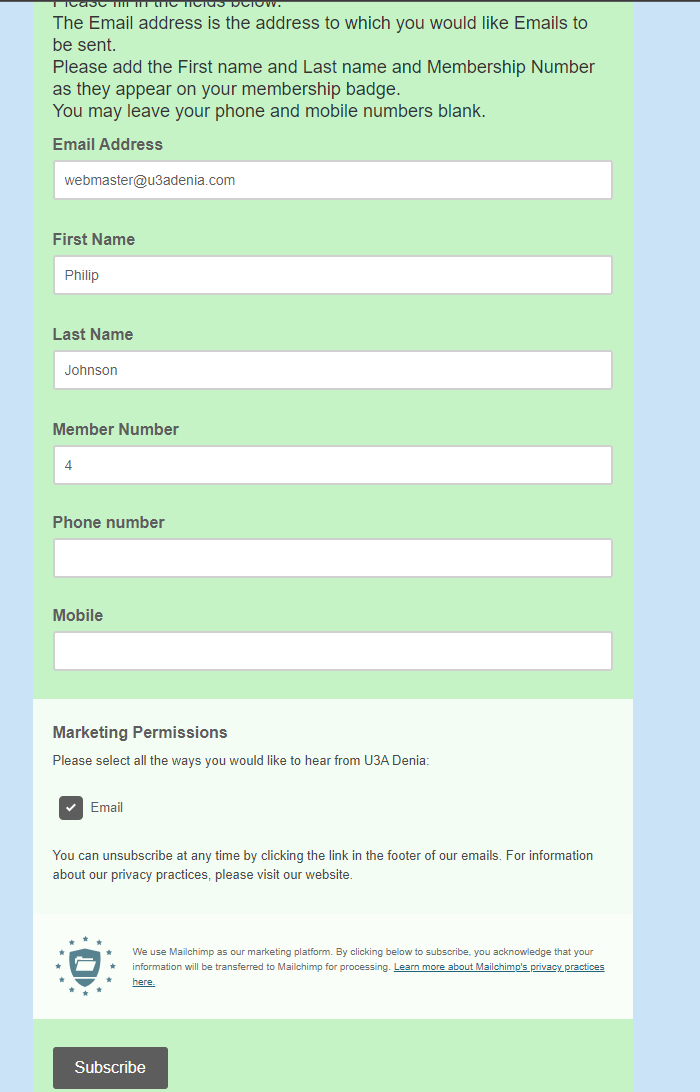 I have filled this one in as the webmaster.
Don't forget to check the Email box under Marketing Permissions
. Now click
Subscribe
and you should see the following screen. This screen asks you to click the
"I'm not a robot"
check box.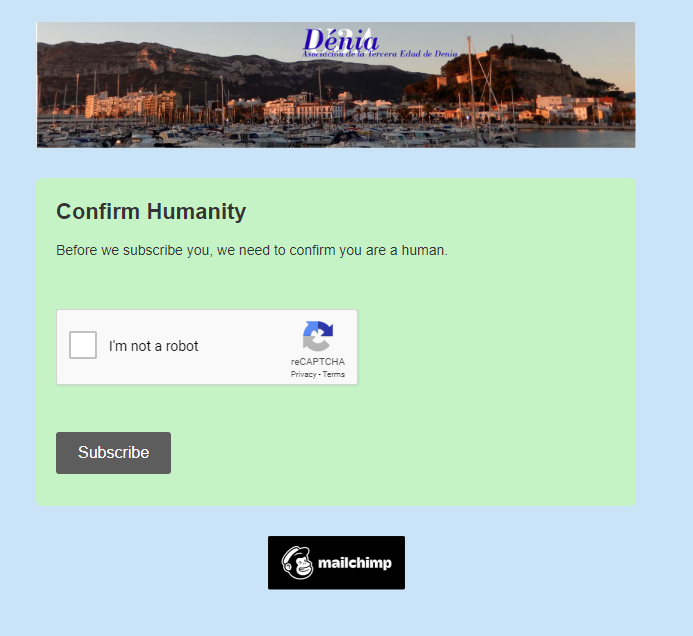 A spinning icon will appear and then a green tick as shown in the next screen.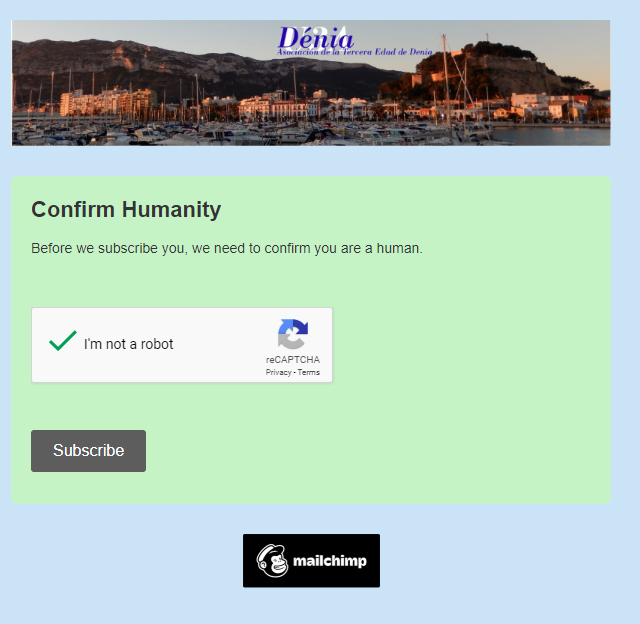 Now click on the
"Subscribe"
button and you should get a confirmation screen to say that you have resubscribed successfully.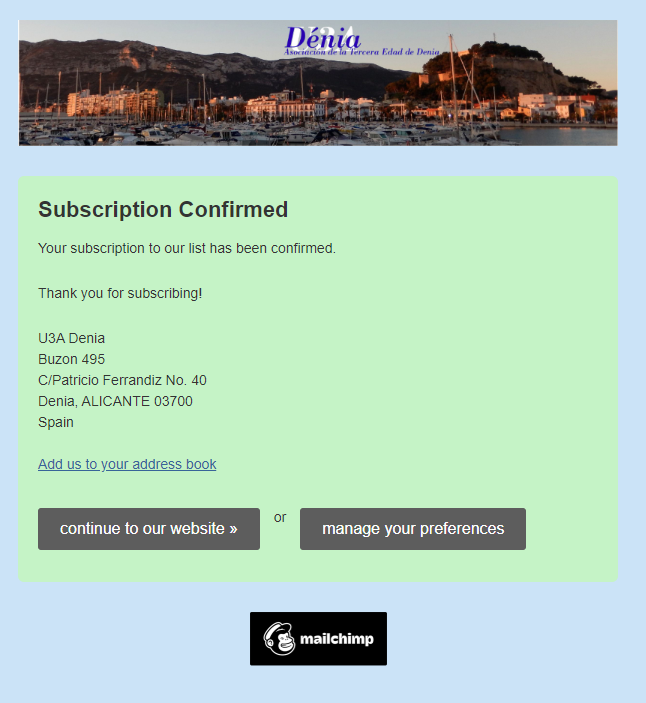 Good luck!
ACCIDENTALLY UNSUBSCRIBING
The picture below shows the bottom of our Emails. If you accidentally click or tap the link circled in yellow you will be unsubscribed and then have to resubscribe yourself as explained above. The link circled in green allows you to change your Email preferences. It's best to not update your Email preferences unless you know what you are doing.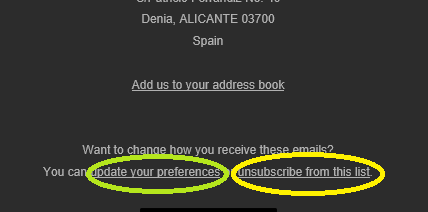 How to get your TIE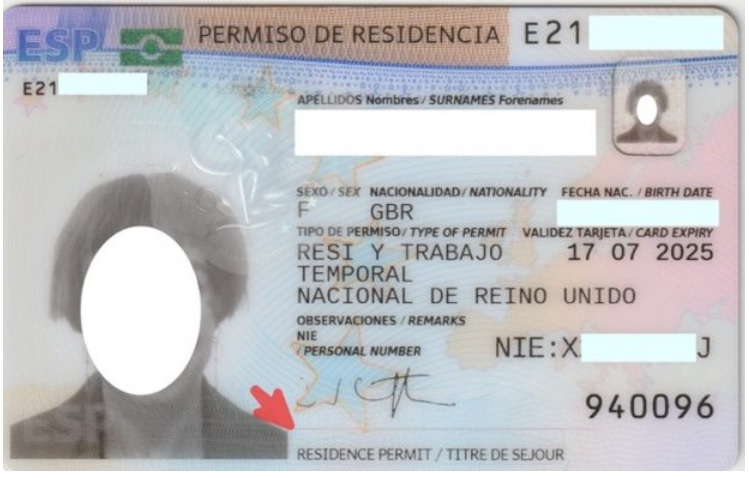 We know that some of you have been having difficulties getting TIE appointments in Alicante province. The Spanish authorities have confirmed with us that they have opened up TIE appointments for UK nationals in the following areas:
• Denia
• Alicante - CNP Campo de Mirra
• Alicante - Ebanistaria office
• Benidorm
• Torrevieja
• Elche

You need to visit the office twice, once to submit your forms, photos and have fingerprints taken and again to pick up your TIE. You will need your passport, your residencia card and the paper they give you at your first appointment with you on the second visit.
This section is a step by step process you need to follow to exchange your existing Residencia document (green A4 page or green credit card sized).
There are two forms you must fill in online before you apply for your appointment. One is the EX23 which is the actual application for the TIE and the other is the Modelo 790-12 which pays for part of the process. The cost is 12€ per person.
To fill in the EX23 click this link The images below show you how to fill in the form. You only need section 1, the Nombre y apellidos del titular line in section 3 and section 4. Most of our members will be category 2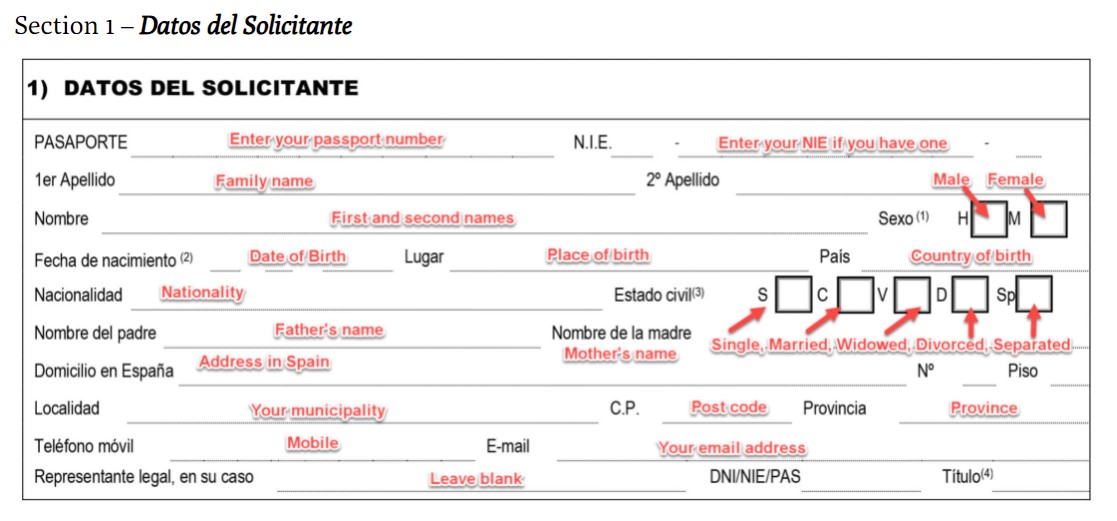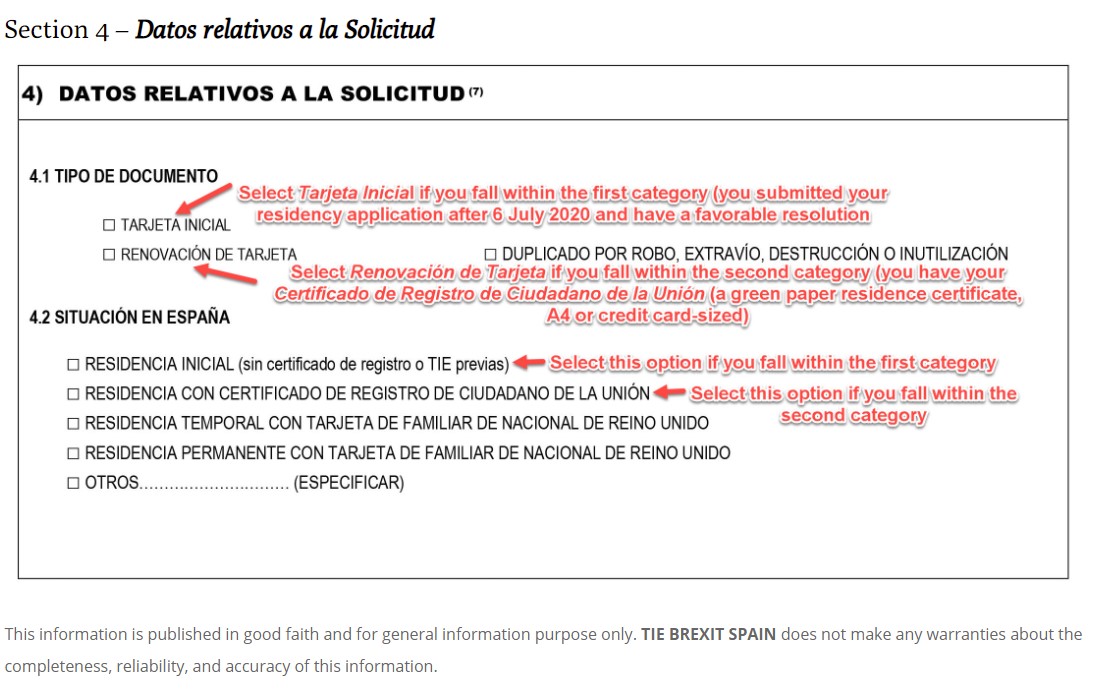 You need to download a copy of the form when you have filled it and and print it.
To fill in the Modelo 790-12 which you use to pay for the process you need to click this link You need to select the option



which will fill in the amount of 12€ for you.
To get an appointment you need to click this link and then follow the instructions below. IT'S BEST TO TRY EARLY IN THE MORNING OR LATER IN THE EVENING TO GET THE BEST CHOICE OF APPOINTMENTS.
The screen shots of each page and selection needed, with the list of documents needed
As you go forward on the link each of the below screen shots appear on the screen
On the one explaining the documents if you click on the red bits Ex23 ( this has to be printed and then filled in) and the 790_12 ( this has to be filled in o line and then printed) it opens the screen with the forms on.
For further information on how to apply for the TIE please see the Spanish government FAQ document: here
If you need additional support completing your application, Babelia are able to help UK nationals in Alicante, Valencia and Castellon areas of Spain.

Here are the screen shots - they may be a bit small on some screens, try landscape orientation to make it a bit easier to read.
The last screen shot is the same as the third but in English.

In case you can't read the screen shots, on the second one, in the drop down menu labelled "TRÁMITES CUERPO NATIONAL DE POLICIA" select the option "POLICÍA-EXP.TARJETA ASOCIADA AL ACUERDO DE RETIRADA CIUDADANOS BRITÁNICOS Y SUS FAMILIARES (BREXIT)" and the available offices will appear on a drop down menu and you can select the office that is best for you. Appointments will only appear where there is availability so if your chosen office does not have any availability at the time you look, you can either choose another available office or try again at a later date.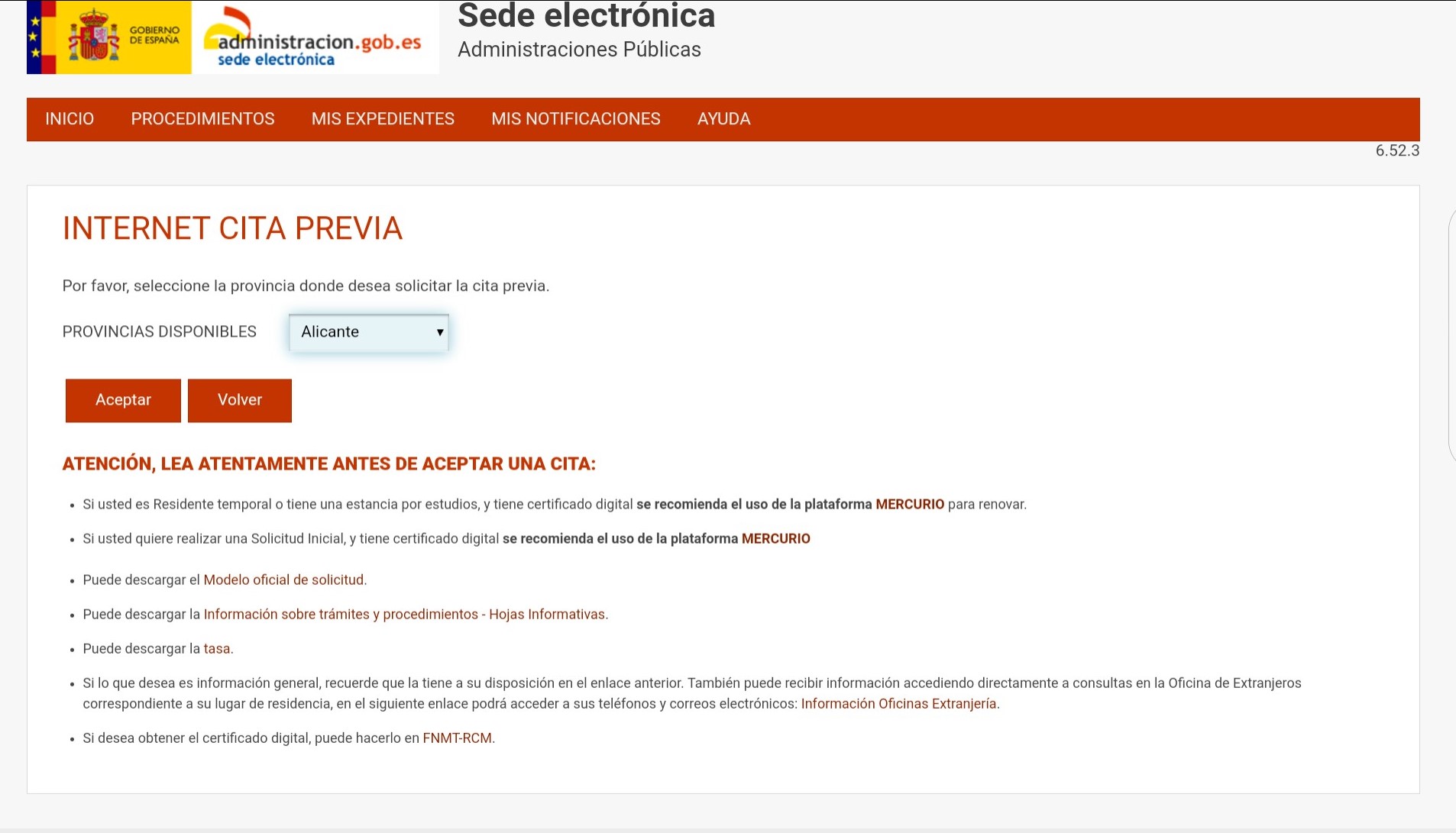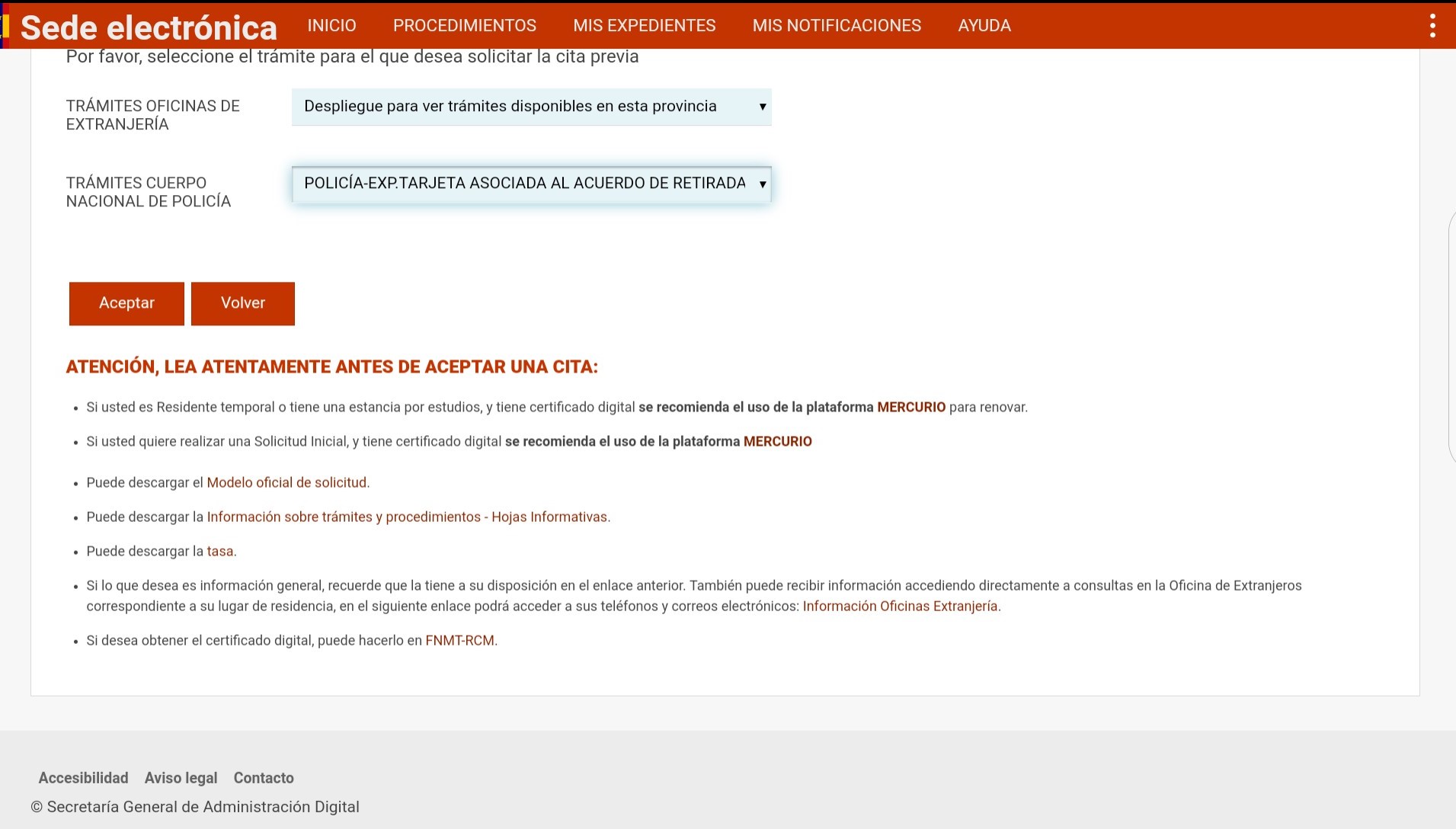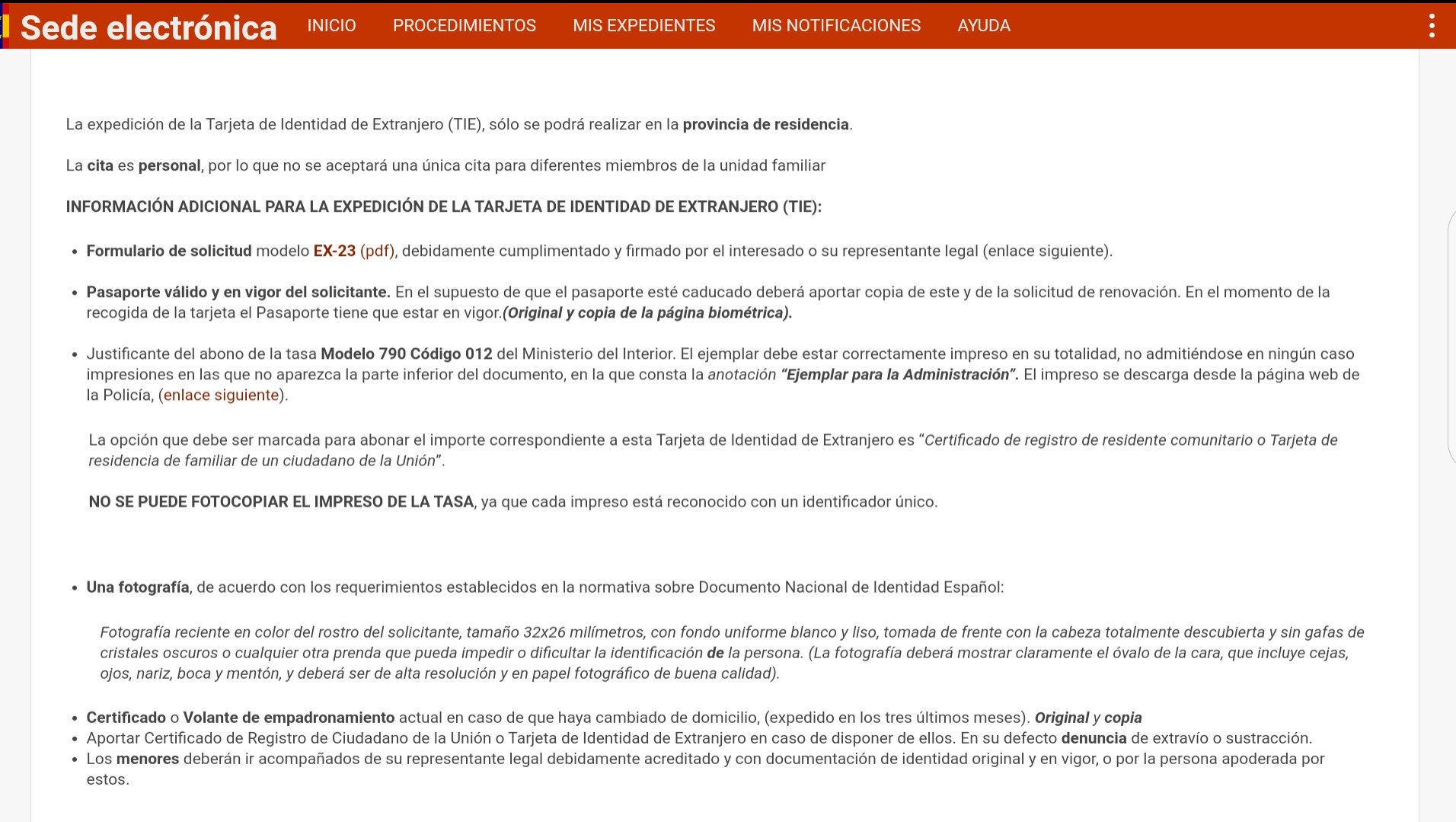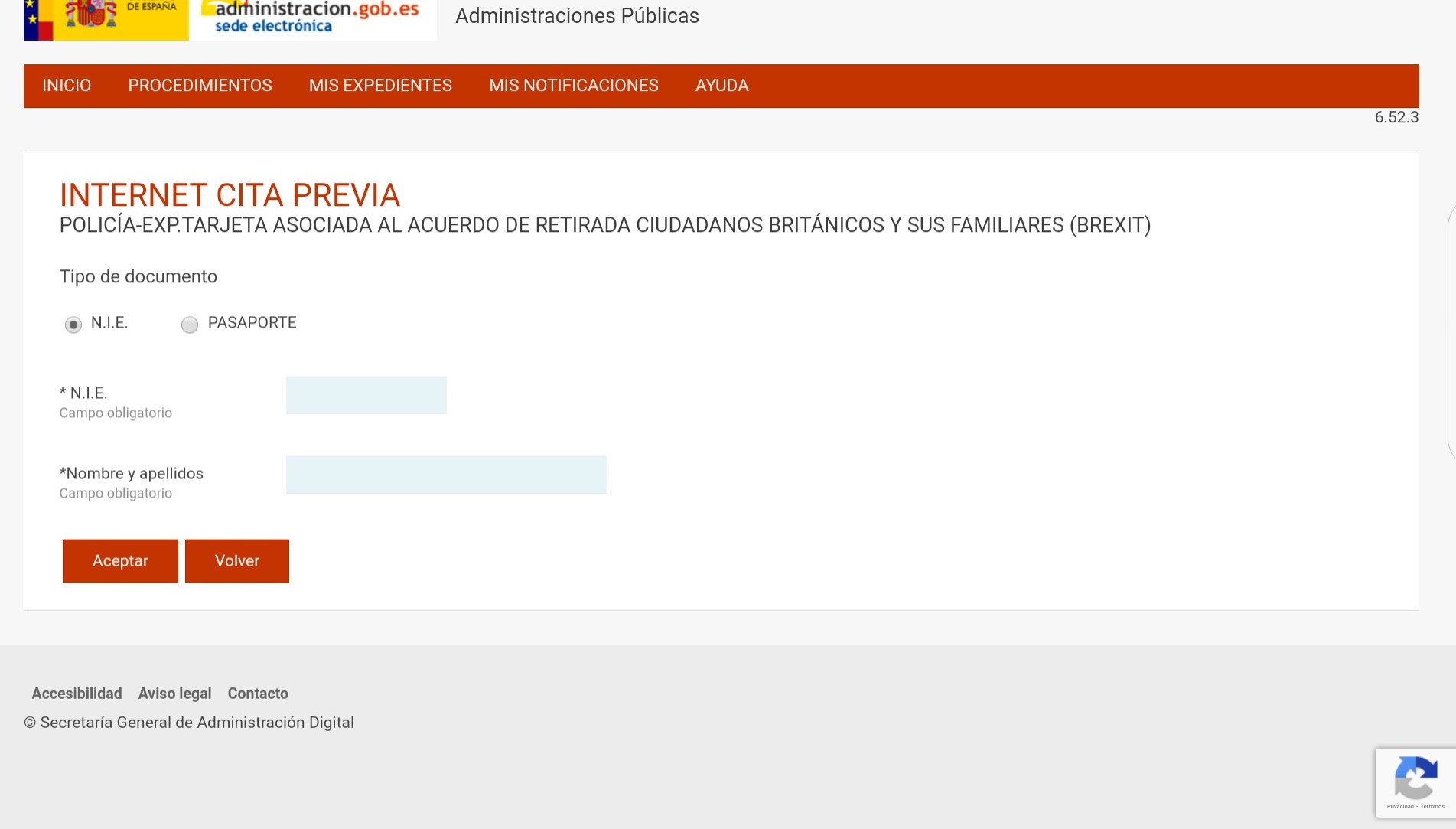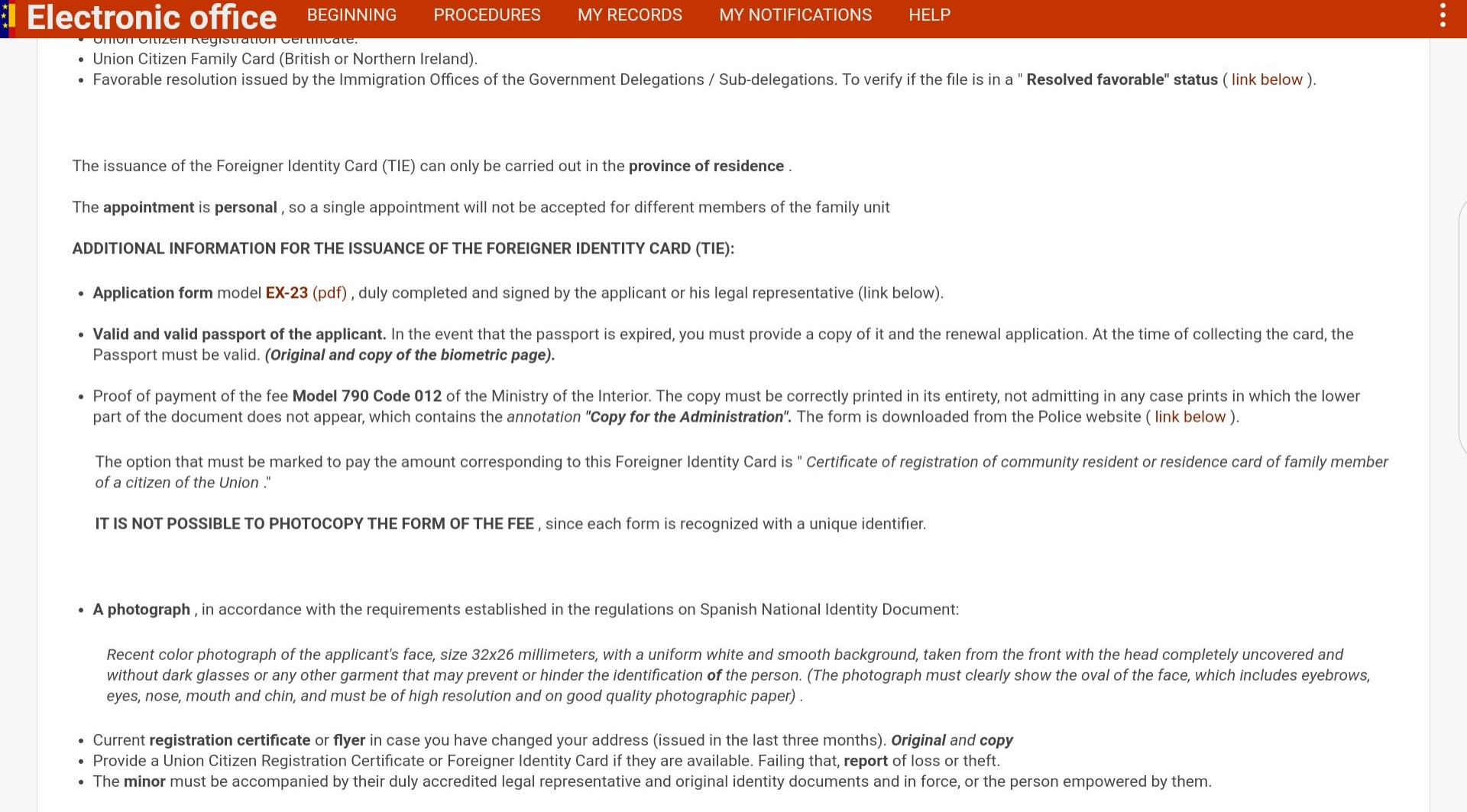 For further information on how to apply for the TIE please see the Spanish government FAQ document: https://www.inclusion.gob.es/ficheros/brexit/guia_brexit_2020_en.pdf
If you need additional support completing your application,
Babelia
are able to help UK nationals in Alicante, Valencia and Castellon areas of Spain.
Quiz answers
Click the button for the quiz for which you would like the answers





















Test page